This is mainly for offensive players, I like to call it the attack mentality but I prefer to call it killer instinct. This mentality is very important, especially in training.
So what is the killer instinct? Well it's the mentality of constantly looking for opportunities to attack and to take initiative on the table. This could be as simple as ensuring you are the first player to attack, or more subtle, flicking serves, counter-attacking or as I feel is most important, being creative with mid length pushes.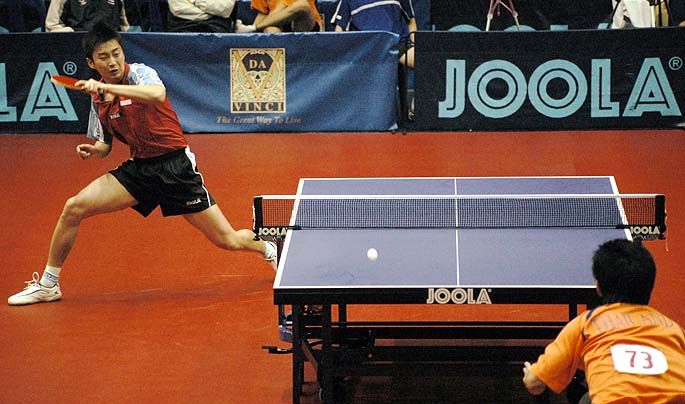 Training with Attacking Mentality: To train with the killer instinct is simple. This may sound odd, but don't fix yourself to the exercise. Often we will see exercises where a player will start with a short serve (an example). Players allow themselves to expect a short serve and fix their response to the exercise i.e to push the ball back to a fixed position. But what if the serve goes medium length or long? The fixed exercise mentality stops a player from upholding an attacking mentality. To make the exercise work for your training partner you find yourself pushing the ball. Don't. Training your mind to acknowledge an opportunity to attack is vital. Not only will attacking the loose ball help you train this mental aspect of the game, but it will also add a dimension of pressure to your training partner to tighten up their service and brings a sense of gameplay to training.
First in First Served: Similar to above, taking the initiative is very important in training and in matches. Often the player who attacks first holds control over the table during the point. Again it is a mentality aspect of the game, service with purpose and a point structure will help you achieve the first attack. Also the ability to play tight and stop your opponent from attacking first will present you with more opportunities to take the opener.
Counterattacking and Aggressive Blocking: Training with an attacking mentality will help you in game situations where you have failed to attack first. The ability to 'turn the tables' on your opponent, so to speak, is a valuable one. Being passive often gives your opponent time and openings to finish a point easier. Putting pressure on your opponent and always looking for a window to change the tide of the point is so important. Remember you have many tools at your disposal, blocking with more firmness can help take time away from the opposition and also reduce their balance. Aggressive blocking may present a weaker attacking ball from the other end, giving you the chance to swing in for the attack. Also having the ability to counterloop, either early in the bounce with a shorter swing or further back from the table, can drastically change your chances of winning a match as an attacking player.
http://www.youtube.com/watch?v=ka_H_H3iigI
Above Coach Li of Table Tennis Master gives some helpful direction with the art of counterlooping. Timing and ball feeling are so important in your execution of the shot and of course, being able to read the spin and trajectory of your opponents attacking stroke which will help you with your own shot selection.
Set Piece Training: Often set piece training leads to the first attack, and if executed correctly, the winning of the point. To help you more with the specific details of set piece training I have written a blog on it which you can read here: http://www.tabletennismaster.com/profiles/blogs/set-piece-play-trai...
These structured points focus mainly on 3rd ball attacking which is a strong factor in developing an offensive gamestyle.
I firmly believe that developing an attacking mentality is central in the success and development in any offensive player's game, that is the main reason I have spoken about it in more detail than my usual blog posts. The moral of the story is, don't be passive if there is an opportunity to be aggressive. That's only for table tennis though it's not a life quote :)
As always thank you for reading, please add your comments and feedback below. And do let me know if you found this useful, I'd love to see more feedback on my blogs as to whether they can be improved etc.