When training or  playing official matches, we think too much about the outcome (for example, executing perfectly a stroke for example, or winning an important match for your team) so ultimately our focus is not 100% on the point. Constant thoughts on the outcome induce high amounts of pressure on our minds and the result is most of the times utter failure.
This is from a psychological point of view "normal" but at the same time "bad" habbit that most of the players have, they focus on the wrong step of the game. The last one (i.e. winning/executing correctly)!
When you ask yourself "what do I have to do to win?" the answers to this question are countless, so you are not helping yourself. Again, if you are training and ask yourself, "what do I have to do, to execute my stroke correctly?" the answers are not countless but they are quite numerous so you are not helping yourself again. But why? Well, because you're asking the wrong questions!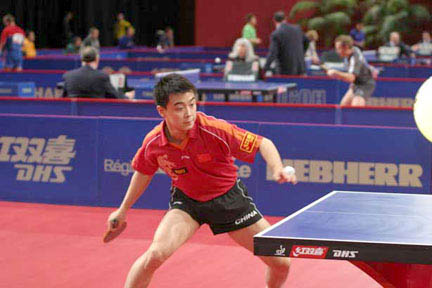 Once again the pros are a great example to learn from. They have become exquisit players, because they learned the steps of a stroke/exercise at a slow pace. After they have mastered with ease a specific stroke/combination (thousands of repetitions) their coach gradually increased the difficulty level & speed of the exercises to help them improve more. You have to do the exact same thing if you want to get better and better.
Finally,  the correct question you have to ask yourself is "which is the first step I have to do, if I want to execute my stroke perfectly?" or "which is the first step I have to do, if I want to beat this guy?"
By asking this question, you make things simpler and you can focus easily on a specific step. For example the FH loop is a very complicated stroke and to execute it perfectly you need great footwork+body balance+body flexibility+forearm motion+wrist motion and all of these attributes must coordinate accordingly. To make things easier, you just need to focus on one little detail: When the ball is coming, turn your waist backwards & put your right foot down simultaneously.

From then on, the "domino" effect will occur! You will execute the stroke automatically step after step with ease. If you dont stay to a steady position though, you will execute a crappy stroke. A common mistake of beginners is that they are not steady & balanced when performing a stroke, so when executing a stroke, always focus on the first step. After the first step is executed correctly, everything else will take place automatically.
Below, I will describe some examples of the "first steps" you have to focus on when executing a stroke/service. Notice that if my advice doesnt work for your training, you can improvise and use a phrase that suits you more.
The highlighted parts are the ones that need more attention. They are the steps that most players execute wrong.
Forehand Loop :  Turn your waist backwards & put your right foot down simultaneously.
Backhand Loop :  Turn your wrist inwards & towards your belly and wait for the ball.
Long Fast Serve : The first bounce of the ball must be near your endline of the table.
Short Serve :  The first bounce of the ball must be near the net on your side of the table.
Flicking : Hit the ball at its highest point after the bounce.
Counterhitting / Smashing : Hit the ball flat.
Soft block (reduces the speed of the ball) : Keep your wrist relaxed.
Hard block (ads even more speed to the ball) : Tighten your grip adding a minimal forward motion when contacting the ball.
That is all for today! My next article will be about effectiveness in training methods!
Practice hard and be patient people!